Feb 8 2015
After a few months break from updating this site (Christmas and work craziness keeping me busy) I've now come back and feel i really have to put a (very late) posting up on Blackmagic Designs decision to release its newly required Fusion compositing software (which it bought from Eyeon) for free.
This software might not be familiar to everyone but it has been around for ages and films it has been used on include the likes of Edge of Tomorrow, Thor, Amazing Spiderman 2, Avatar, Sin City2 : A Dame to Die For, Gravity, Captain America 2 – The Winter Solider, Noah, White House Down, Skyfall, Hugo, and the Hunger Games series of films. Plus TV shows such as Breaking Bad, Downtown Abbey, Orphan Black and Battlestar Galactica (click below image for credits).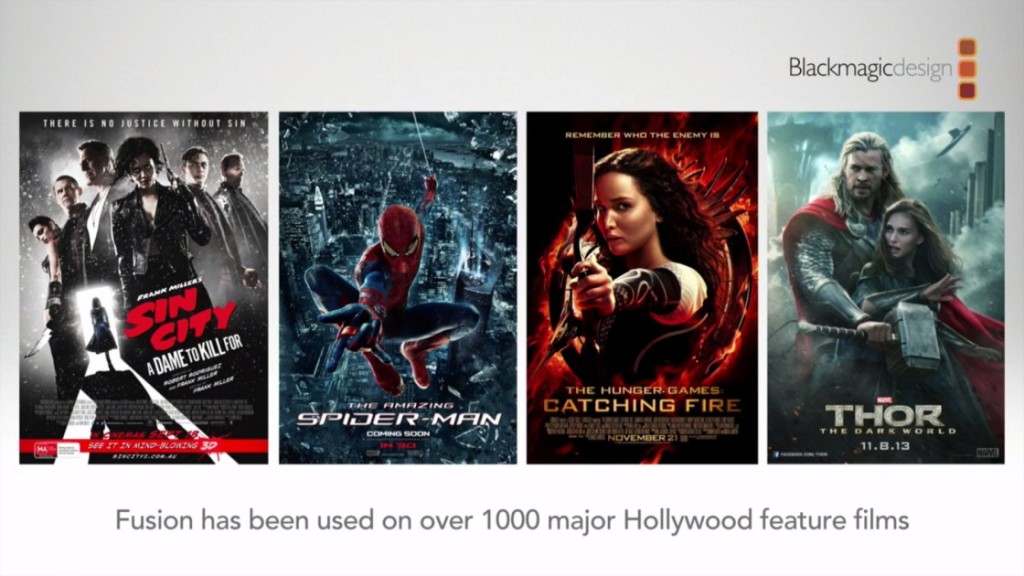 Now before you shrug and go, "sure it might have been used on those shows but I really don't want some stripped down, half baked freebee software that isn't capable of anything serious", Blackmagic have followed the route they first took when they bought DaVinci and then proceeded to release a free version (and have a more specced up version you could buy or that came free with their hardware, …which is what their main business is, nice shiny video cards and converters), in that they have released pretty much the full featured Fusion software. The only features they have missed off are the stereoscopic tools, motion-vector tools, 3rd party OpenFX, distributed rendering, and limiting the resolution to ultraHD. For most folks this is fine (although I confess I do use motion vector tools quite a bit for retiming and motion blur work (albeit in Nuke, my package of choice) and third party plugins can be handy, …but for free, hey). If you want the full shabang, plus their shot review and management system, Generation, you can pay the $995US for it. To put it in perspective, when Blackmagic bought the software, it was retailing for around $2495US and generation was an additional $995US, so all the paid version is pretty good if you like the free version and decide the extra features could be needed.
It currently runs on Windows but Mac (and I think Linux?) versions are in development, so if they continue to develop it as well as they have with Resolve, they might find the likes of the Foundry looking over their shoulders in a couple of years, which is a good thing for everybody (…as a Nuke user I welcome to the competition to help keep the innovation going).
Click on the below image for a comparison between the free and paid versions of Fusion Studio.
Click on the photo below to go to their site and see more.